Submissions have closed, and the review committee is evaluating this year's applicants to the Berkeley Changemaker Technology Innovation Grant program. The grant program supports proof of value experiments that enhance the University's operations, bolster its research endeavors and help transform instruction and the classroom experience. As advisor Jean Cheng puts it, "At a time when the campus is looking for solutions to new and urgent problems, the CTO grant program is an exciting opportunity to make strategic contributions to projects that are likely to have a significant impact. We were thrilled to see compelling proposals from diverse groups and corners of campus." 
The new CTO grant program received many proposals, and to review them carefully, we assembled a strong committee reflecting the range of Berkeley's disciplines, administrative areas and people. The review committee completes its evaluation of proposals in June. The first meeting allowed people to meet each other and check-in, discussing norms and evaluation criteria. The first meeting also introduced the committee to a review framework developed by the CTO and key innovation program advisors. As Cristóbal Olivares noted, "we want an approach that balances head and heart-- so the committee can start with a quantitative overview-- but also be able to act on how they feel about proposals." The committee evaluated proposals based on criteria such as creativity, equity, impact and risk. After a first meeting on June 5th, the members left with copies of all the proposals and the evaluation matrix.
The Berkeley Changemaker Technology Innovation Grant Review Committee
Bill Allison
University Chief Technology Officer (Non voting / Ex officio member / Sponsor)
Jean Cheng
Academic Innovation Studio Program Manager, Research Teaching & Learning (Non voting / Ex officio member / Advisor)
Cristóbal Olivares
Student Technologies Director, Student Affairs IT 

 (Non voting / Ex officio member / Review Facilitator)

Tim Abraham

Clinical Services Technology Strategist, UHS

Deepshika Dhanasekar

Undergraduate Student, EECS and Business Administration

Les Gorske

Academic Director, New Strategies for the Humanities, 

Division of Arts & Humanities

Elisa Huerta

Director, Multicultural Community Center

Gold Okafor

Doctoral Student, Psychology

Stacy Reardon

Digital Humanities and American Literature Librarian

Kaidi (Ted) Zhang

Doctoral Student, Chemistry
As we hoped, the review committee was a fully engaged group that quickly built esprit de corps and dug in, with give and take from everyone. The commitee held a marathon session on June 11, discussing pros and cons of many proposals in depth and struggling with how to maximize the impact of the funds available and how besides funding the CTO and the University could best support the proposed initiatives.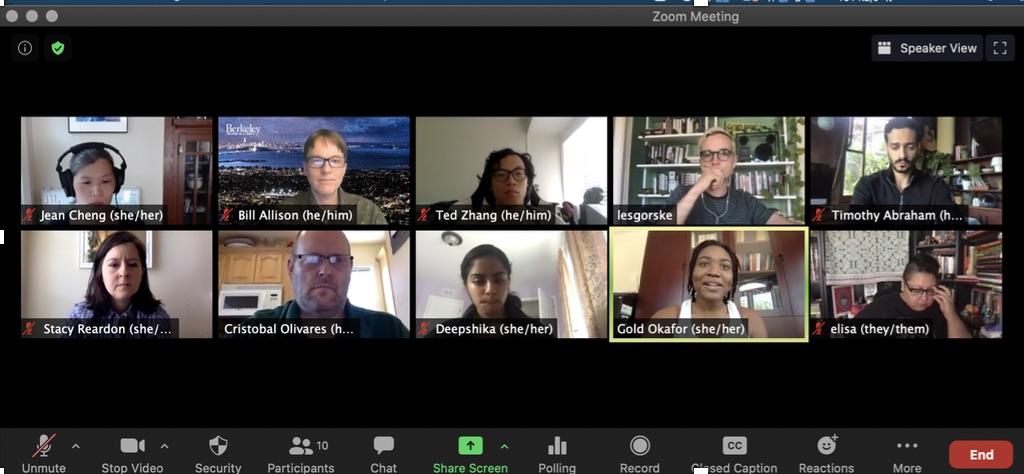 6/25 UPDATE: The process has completed. Awardees are listed here and have been announced by campus.