[Update: March 2, 2020: Meetup video and slides have been posted.]
The UC Berkeley Cloud Community of Practice will be hosting the 11th UC Berkeley Cloud Computing Meetup at the Berkeley SkyDeck Penthouse on Tuesday, February 25 with doors opening at 4:30pm. We have some excellent guests and topics and hope to see you there.  Everyone is welcome - this is a really inclusive group! You don't have to be an expert, or already know about cloud technologies; we get together so people can learn from each other. The Berkeley SkyDeck is at 2150 Shattuck, on the top floor (press "PH" in the elevator.)  There will be soft drinks, salad and pizza from Sliver.
Our guests this month should be very apropos and interesting - from Canada, we have James Colliander (Director of the Pacific Institute for the Mathematical Sciences) launched Canada's national JupyterHub infrastructure Syzygy. Colliander will present on the future of interactive computing including how Jupyter's future could play out internationally via consortia of institutions collaborating on delivering and consuming common infrastructure. This is a sneak peek into what the future of Jupyterhub could be for large research universities...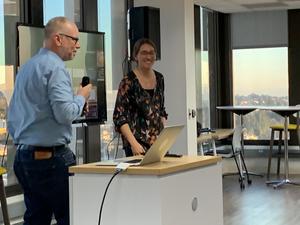 (James Colliander and Lindsey Heagy at the Feb 25 Meetup. Photo ©2020 Bill Allison)

Also - it is primary season and so we are featuring Pundit Analytics, a unique SkyDeck company that is becoming the master of understanding how sentiment moves in the information economy as the election jockeying gets under way.  Glenn Parham, their CEO and founder will talk about how they automate competitive intelligence. As the 2020 election heats up, Pundit Analytics is leveraging cloud infrastructure to process unprecedented amounts of political data and extract valuable insights for their clients.

You can RSVP here: or on bCal if you've up for the cloud community of practice.

AGENDA:
4:30: Networking & info sharing / people arrive and food arrives
5:00: Host welcome and announcements
5:10: Speaker: Glenn Parham, CEO and founder of Pundit Analytics
5:30 Speaker: James Colliander (Director of the Pacific Institute for the Mathematical sciences)
5:55 Speaker: Cathryn Carson Division of Data Science // NOTE: Cathryn cannot make it but she is helping get a new speaker from the new UC Berkeley Division of Computing, Data Science, and Society.
6:15: Discussion, networking & info sharing
7:00 pm - End/Doors close

Also we are always on the lookout for new presenters -- please nominate people or teams to present at a future meetup.