[Announcing the creation of the Berkeley AI Community of Practice, this post was originally sent to the members of the UC Berkeley Cloud Computing Community of Practice]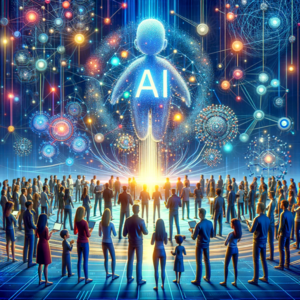 Artificial intelligence is just beginning to come of age. The latest wave of new AI capabilities has transformed what's possible in meaningful ways, reminiscent of the rise of the internet or the inception of public cloud and mobile computing. These technological advances along with an acceleration of new capabilities will deeply impact core functions of teaching, learning, research and administration at all universities. Advances are occurring across many domains of AI-- and the community of practice encompasses this wider interpretation-- from machine learning, natural language processing, robotics, including generative AI and also inquiry into AI ethics, explainable AI and knowledge representation.
All across the University-- indeed across all higher education and the business world, people are actively beginning to identify and exploit AI in its many forms. Embracing new technologies is not without risk. Berkeley faces a daunting number of legal, policy, technical, infrastructural, environmental, ethical and data management questions accompanying the rise of AI. Berkeley faculty, staff and students face an imperative to stay on top of the tools to keep the University competitive -- and they require timely, action-oriented decisions from the institution. 
In order to meet this moment effectively, Berkeley needs a distributed (yet coordinated) community-driven approach to spreading information and expertise. Much of the engineering behind AI has been invented at Berkeley. Many of the approaches to responsible innovation, including thought specifically about AI, have originated here among our academics.  This document proposes a community of practice to engage our staff, spread their best ideas and thinking, and act as an umbrella for staff oriented work with and in support of AI at Berkeley. The community of practice will provide an inclusive environment for interested Berkeley staff of all abilities and backgrounds from beginners to expert practitioners. In addition, the community of practice will convene a Berkeley AI Meetup to showcase challenges, inquiry, expertise and innovations of interest to Berkeley and our peers across the UC system and at other universities. (We previously took a similar approach with the UC Berkeley Cloud Computing Meetup.)
Next Steps
We are retiring the UC Berkeley Cloud Computing Meetup (public event)
Sometimes in order to do new things it's necessary to make some capacity by stopping some other things. Five years ago, a few people began planning the UC Berkeley Cloud Computing Community of Practice and we held the first meetup in March 2019. In 2023 the enterprise has embraced cloud computing, there are mature standards, approaches and services. Cloud technology is no longer such a focus of concern and questions at a board or CIO level. Staff jobs have evolved beyond one-size-fits-all approaches to embrace hybrid approaches and architectures. At the same time, machine learning has been steadily growing in importance and capability. 
We have renamed and refocused the UC Berkeley Cloud Computing Community of Practice (internal staff organization) to an internal, operationally oriented cloud computing user group. The user group will merge with the Berkeley Cloud Resource Center and will be overseen by the bCloud team in Berkeley IT.
Before the pandemic, the internal cloud community of practice held on-campus training and other events focused on UC Berkeley staff and getting consensus on approaches and standardizing cloud architectures.  There is a cloud resource center for sharing cloud advice and connections with campus staff and academics that includes a webpage with an email address monitored by a group of volunteers including the bCloud team, CTO and others. These will be merged to become a cloud user group, and Robert Amos and Walter Stokes from Berkeley IT will leverage the existing group for sharing resources, training and announcements for UC Berkeley cloud computing users. Note: the cloud user group will require a berkeley.edu email address.
We will launch a new Berkeley AI Community of Practice (internal staff organization)
Last spring our Cloud Meetup hosted a topic on generative AI that was the most widely attended meetup in two years. Earlier last year, several talks showcased machine learning (autonomous cars, health) that were actually about machine learning. Our plan is to leverage the meetup.com infrastructure and the cloud community Google Group membership list to accelerate the launch of a new Berkeley AI Community of Practice along with a public Berkeley AI Meetup (the same model used with the cloud community of practice in the past). The AI Community of Practice is convened by the CTO Office and is sponsored by the CIO, Berkeley IT, Research Teaching and Learning (RTL), the College of Computing, Data Science (CCDSS), the Library, the Graduate Division, the Office of Ethics, Risk and Compliance Services (ERCS) and Public Affairs. If you were a member of the cloud community of practice as of 10/11/2023, you will automatically receive an invitation to the new AI Community of Practice Google Group when it launches. If not, we will publicize the signup location the week of 10/16/2023. The new AI meetup will use the same meetup.com subscription as the cloud meetup - so if you subscribe to the Berkeley Cloud Meetup on meetup.com you will automatically be a member of the Berkeley AI Meetup when it launches
The Berkeley AI Community of Practice will exist to lightly coordinate people and information around AI from across campus. It will cover all types of AI, not just the recently popularized generative AI. 
Proposed elements of the new UC Berkeley AI Community of Practice:
We will continue to offer a public meetup on AI, aimed at educating and inspiring staff, showcasing the work of Berkeley faculty and research.

We will put out an inclusive call for participation both for folks to attend, and also for people who want to join in the planning. The community of practice will curate, popularize and also host events (including talks, training, certifications) on campus that build expertise and awareness among staff. 

The community will be a focal point for engaging AI practitioners and will feature deep-dive, information sharing among our campus subject matter experts.

The community will be a hub of campus staff AI experts and serve as a channel for putting out calls for early input into proposals, policies, incentives and services, via sponsorship from the CIO, Berkeley IT, Berkeley Research, Teaching, and Learning (RTL), the College of Computing, Data Science (CCDSS), and Society, the Graduate Division, the Library, Public Affairs.  One of our first engagements as a community will be to contribute to UC Berkeley's feedback to the Governor's Executive Order on Generative AI.

The community of practice organizers has official oversight from the CTO Office and from the Information Technology Architecture and Infrastructure Committee (ITAIC). Part of the vision is for the community of practice to include and bring forward voices from the community who can provide input and perspectives to formal governance where useful and appropriate.
Sincerely,
Bill Allison, Amy Neeser, Anthony Suen & Jeff D'Ambrogia